2016 building almost back to pre-recession peak
Published Tuesday, February 7, 2017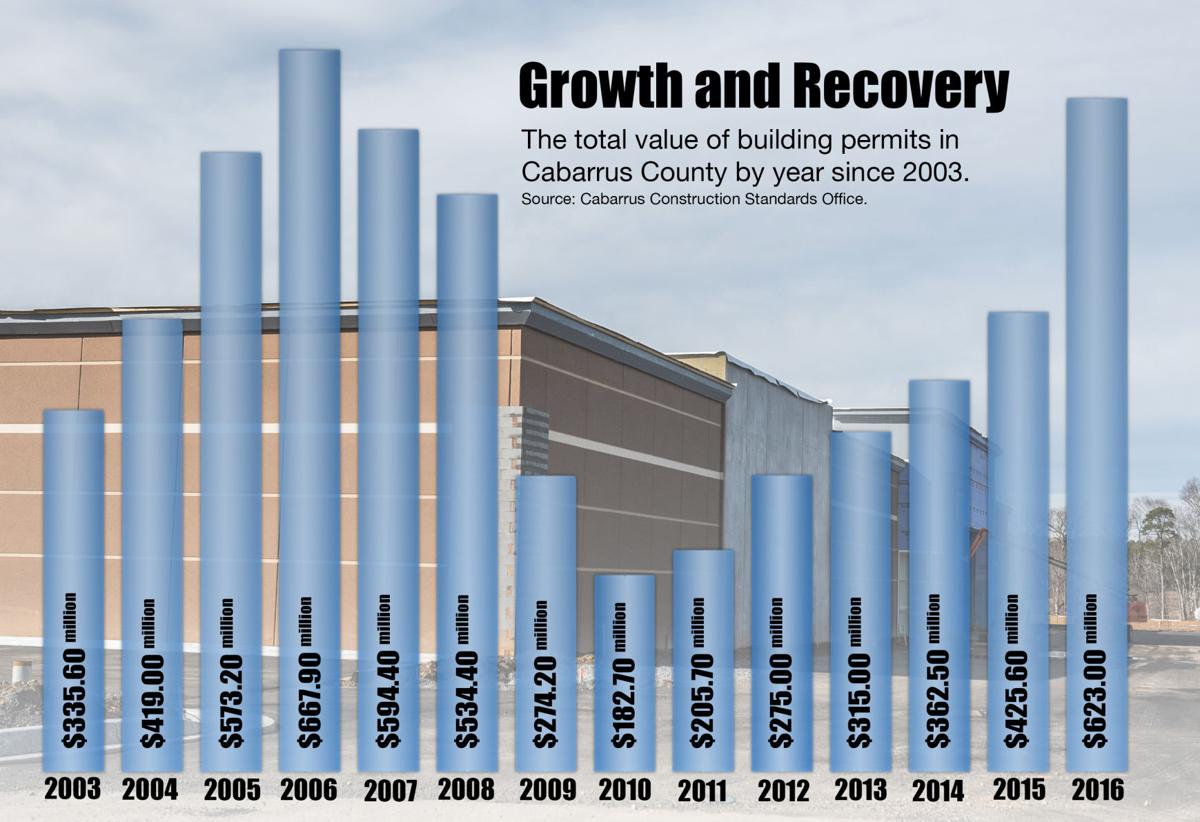 Building in Cabarrus County for 2016 was almost back to the peaks prior to the recession that hit in 2008.
Cabarrus County issued 3305 building permits during 2016 with a total value of nearly $623 million, according to reports at the Cabarrus Construction Standards Office. That compares to the high of 4316 permits in 2006 worth $667.9 million.
The building total values have climbed each year since the recession seemed to bottom out in 2010. That year there were 1270 permits worth a total value of $182.7 million.
Since then the permit totals and values have been: 2011, 1956 for $205.7 million; 2012, 2111 for $275 million; 2013, 2449 for $315 million; 2014, 2790 for $362.5 million; and 2015, 3111 for $425.6 million.
Housing boom continues
Single family detached (SFD) homes accounted about a third of the building in 2016. SFD accounted for 1368 permits worth $206.1 million. That is the highest since 2007 when there were 2141 homes worth $318 million.
Concord continues to lead the housing boom with 584 SFD permits for the year worth $75.8 million. Kannapolis had 281 permits worth $38.3 million, but value wise was less than unincorporated areas of Cabarrus where there 205 houses worth $45.9 million and Harrisburg with 240 projects for $39.8 million. Midland had 43 homes worth $5 million; Locust, nine for $824,650; and Mount Pleasant, four for $402,000.
Fourth quarter numbers
October through December continued the upward trend with 694 permits issued with a total value of $117.7 million. That compares to 711 permits in the fourth quarter of 2015 worth $79.2 million.
Other recent fourth quarters include: 2014, 696, $92.8 million; 2013, 526, $87.4 million; 2012, 477 for $46.3 million; 2011, 421 for $70 million; 2010, 173 for $53.7 million; 2009, 276 for $33.1 million; 2008, 344 for $93.4 million; and 2007, 800 for $113.1 million.
Fourth quarter SFD permits have been relatively steady for the past three years. In 2016, the county issued 317 permits worth $45.8 million compared to 308 in 2015 for $43.1 million and 303 in 2014 for $42.6 million.
Big fourth quarter permits
At least 15 permits were issued of $1 million or more during the fourth quarter.
A $14.1 million permit was issued in early October for Intertape Polymer Corporation's plant in Midland. The company will begin taking job applications next week.
A $5.1 million permit was issued for a project Corning Inc., also in Midland.
The second largest permit of the quarter was $8 million for a spec building being built for The Silverman Group off Derita Road.
A $4.7 million permit was issued for a project at Christenbury Corners at Concord Mills. A new Kohl's Department Store is under construction along with other businesses.
There were several fourth quarter commercial permits issued in the Concord Mills area.